Title: An Ember in the Ashes
Author: Sabaa Tahir
Released:  April 28th 2015
Pages: 446
Rating: 4/5 ★

Summary

"What if you were the spark that could ignite a revolution?
For years Laia has lived in fear. Fear of the Empire, fear of the Martials, fear of truly living at all. Born as a Scholar, she's never had much of a choice.
For Elias it's the opposite. He has seen too much on his path to becoming a Mask, one of the Empire's elite soldiers. With the Masks' help the Empire has conquered a continent and enslaved thousands, all in the name of power.
When Laia's brother is taken she must force herself to help the Resistance, the only people who have a chance of saving him. She must spy on the Commandant, ruthless overseer of Blackcliff Academy. Blackcliff is the training ground for Masks and the very place that Elias is planning to escape.

If he succeeds, he will be named deserter. If found, the punishment will be death.
But once Laia and Elias meet, they will find that their destinies are intertwined and that their choices will change the fate of the Empire itself.
In the ashes of a broken world one person can make a difference. One voice in the dark can be heard. The price of freedom is always high and this time that price might demand everything, even life itself."
from Goodreads.
Opinion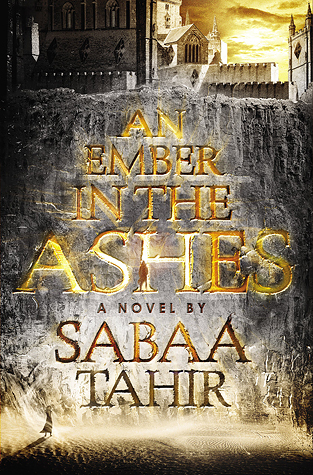 Phuuu, this book was something! It started out as confusing as it ended but I liked it.
Firstly, the way of writing is pretty good, you get a sense of all the brutality and violence surrounding the main characters Laia and the Mask Elias.
It reminded me very strongly of "The Young Elites" just with more violence and a significant part missing: Hope. I searched for it but everything the characters do or survive or live through seems to be … meaningless. There is just more blood, more desperation waiting for them (Okay, except the last ten pages).
This is the reason why I'll take one star away from my rating – Hope should be worked into the story as an underlining common thread. Yes, clearly, I've enjoyed the read (to stay awake until 2am to finish this book is an obvious indication), but I've never seen the hope Elias and Laia are definitely having (everyone has hopes, right?) until the very end.
Never mind this disappointing flaw – everything else was superb. The brutality, the violence and the creepy ruler ship of that "Empire" scared the crap out of me (Even though I didn't fully understand this political system…).
… and I loved that delicate romance going on between those very fascinating characters of Elias, Hel, Laia and that red-haired Resistance-boy (I forgot the name. He wasn't that interesting I suppose).
Also, Laia really learned so much in that "short" time. At the beginning she was a coward but she managed to survive a brutal master and much more brutal treatment. I like strong characters that start out weak. It's realistic that you're scared and have to learn to become brave. So, thumbs up for this one!